For 2021, our data partner DealForma is providing venture investment data in addition to the data they have been sharing on M&A deals.
As we all know, VC investment was on a roll in 2020. Silicon Valley Bank has reported that venture investment in healthcare overall hit $52B in 2020, an increase of more than 50 percent over the previous year. In our little digital therapeutics corner of the market, things look even rosier: Venture investment in the first quarter of 2021 was $1.8B, up from a mere $381M in Q4 2020. That's a jump of over 350 percent.
That's not to say the M&A side of things didn't manage to put up some pretty impressive numbers of its own, so let's start there.
M&A Deals Q1
M&A deals continued apace in the first quarter growing 36 percent quarter-over-quarter compared to average q-o-q growth of 32 percent for the three previous quarters. Year-over-year, the number start to rival the VC side of with a 277 percent increase in the number of deals.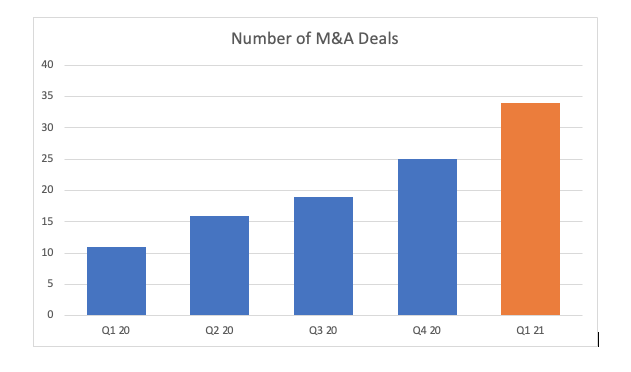 There were 13 acquisitions in Q1, an all-time high since we've been tracking digital therapeutic deals. The largest buy-out of the quarter (where a price was disclosed) was Centene's acquisition of Magellan Health for $2.2 billion.
Among the R&D deals Microsoft and Apple were among the 'buyer' companies. Microsoft is partnering with Volastra Therapeutics on a cancer diagnostic, and Apple is teaming up with Biogen to use the iPhone and the Apple Watch to study cognitive health.
And, not surprisingly given the broader public market trends, there were three more reverse mergers in the first quarter resulting in three new publicly traded companies: DocGo (NASDAQ: DCGO, Talkspace (NASDAQ: TALK) and Hims & Hers (NYSE: HIMS).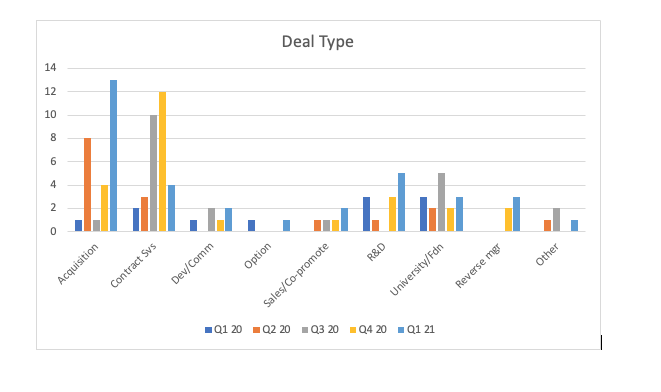 Neurology deals continued to reign supreme in Q1 and included two acquisitions and one company formation. MindMed acquired HealthMode for approximately $24.8 million, and Centene bought out Magellan Health for $2.2 billion. Brussels-based biotech UCB S.A. formed Nile AI to develop digital health solutions for neurological disorders.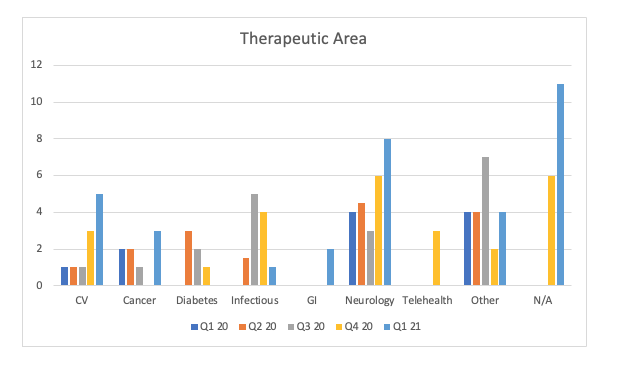 Venture Capital
Venture investment for Q1 2021 totaled $1.85 billion. That's an increase in value of over 380% from the fourth quarter of 2020. In fact, venture investment in digital therapeutics in the first quarter of 2021 topped all VC investment in the sector in 2020 by 26 percent.
The number of deals jumped from 10 in the fourth quarter of 2020 to 32 in Q1. That compares with total of 41 venture investments in all of 2020.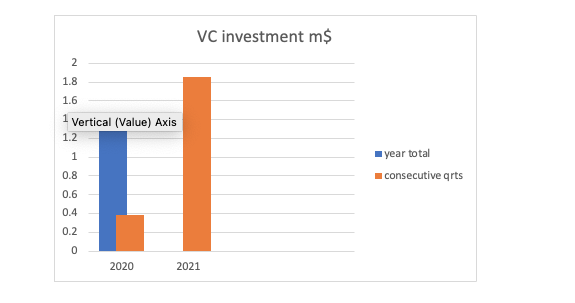 The average deal size in the first quarter of the year was $49 million versus $38 million in Q4 and $35 million for all of 2020.
There were five deals for $100 million or more in the first quarter including: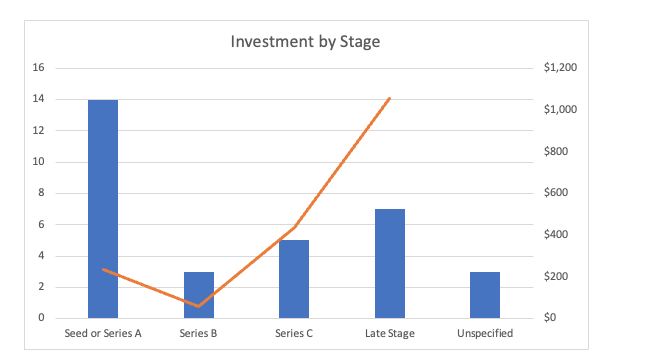 In terms of sheer numbers, early-stage deals dominated in the first quarter valued at an average of $16.8 million. Series B deals averaged just a bit higher at $19.3 million. Series C deals took in $87.6 million on average. And thanks to the $500 million mega-round that went to Ro, late-stage deals had an average value of $150.8 million.
Conclusion
Many have speculated that the end of the pandemic will unleash the 21st Century equivalent of the Roaring 20's. It appears many in the market are betting on it. With luck they will have the discipline to invest judiciously. At least the pandemic has unleashed flood of innovation that will hopefully give investors plenty of solid opportunities from which to choose.