Tired from a long week of parsing electoral college votes? How about focusing on digital therapeutic deals for a change of pace?
The third quarter brought a record number of digital therapeutic deals with a total of 19. That's up from 16 in the previous quarter. The previous high mark of 17 was recorded in the fourth quarter of 2019.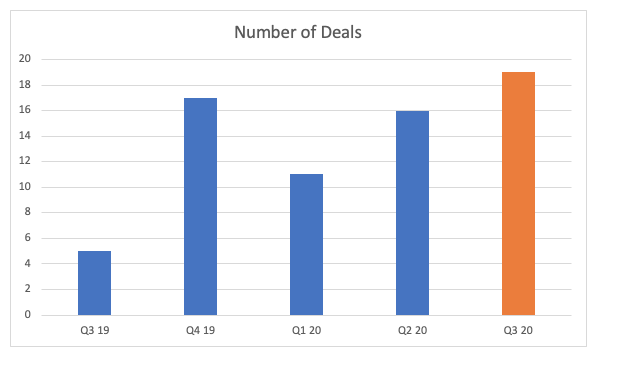 Previously, I've excluded telemedicine deals on the theory that they are more infrastructure than therapeutic, but in the era of social distancing, telemedicine is taking on a more important therapeutic role, so they are now included in the count and previous quarterly totals have been adjusted to reflect that change.
The number of contract services deals shot up in the third quarter. In previous quarters, there were just a handful of contract service deals, but in the third the total shot up to ten. This may be a case of companies who are looking to pivot have resolved it's cheaper to 'buy' (or rent) than 'build'. It will be interesting to see if this trend continues.
There were also a record number of collaborative development or licensing deals with universities or foundations. Those deals ran the gamut from cardiovascular to neurologic to SARS-associated coronavirus.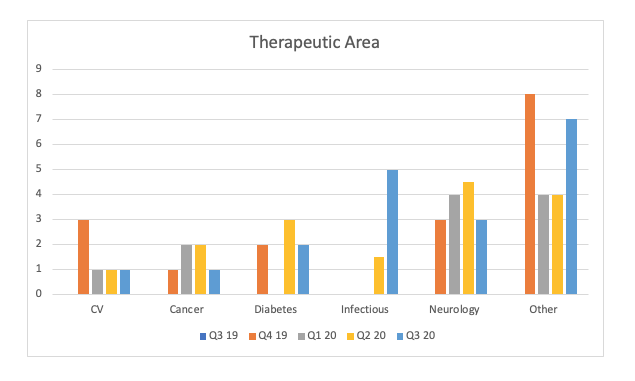 On the subject of COVID-19, after SARS associated coronavirus deals made their first appearance in Q2, COVID-19 deals jumped considerably in the third quarter. 
The deals primarily involved telemedicine and remote patient monitoring, while one was for a breath-based mobile diagnostic test.
There were three neurology deals in the third quarter, one for a treatment for cognitive disfunction, one for schizophrenia and one for anxiety – a growing problem in the age of pandemic.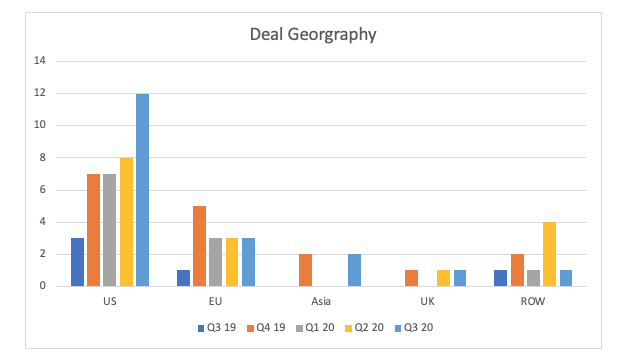 Dominance of US buyer companies continues in the third quarter. At 12, the total is up 50 percent from Q2. As a percent of the total, it also increased, but by 18% from 52% in Q2 to 63% in Q3, matching the first quarter in terms of percentages, though it far outpaced Q1 in the raw number of deals.
As in the second quarter, there was no dominant buyer-company this time around. In fact, no buyer company did more than one deal.
Conclusion
With the Pfizer vaccine candidate reporting better than expected preliminary results this week, it will be interesting to see if COVID-19 deals continue to dominate in Q4. However, even if there is a vaccine on the horizon, many of the innovations that have been accelerated in the face of the pandemic, such as the rapid adoption of telemedicine and remote monitoring, will still find a market as healthcare delivery evolves. And who's to say the next pandemic isn't around the corner?